May 2, 2007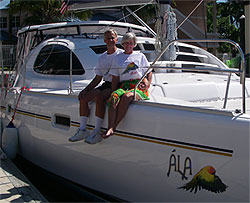 "What's your destination, how long will you be gone, where are you going, when will you be back?" These questions were asked of us by so many friends and family members. Folks seemed to be uncomfortable with our monosyllable answer---"south".

We left Annapolis, Maryland, on November 29, 2006 aboard ALA, our beautiful Leopard 40 sailing catamaran. Heading south, period. Free at last to journey, explore, just live daily life. Relieved of schedules, meetings, deadlines---hooray! I didn't understand the "destination questions" at first, then I realized that people are bonded to schedules, routines, demands, focus. It must be hard for many to abandon the comfort zone. Looking back, I guess I had a tiny bit of that in that I do vaguely remember feeling a bit of unease saying goodbye to that secure job! My friend, Lucy (who accompanied us for the first three weeks) and I used to dance around the boat singing joyously and fearfully "No paycheck" to a familiar rock tune. Fortunately it was a short-lived feeling and now gone!

When we left Annapolis, Captain Mark, Admiral Gwyn, Associate Admiral Lucy, and Instigator Rich (Lucy's husband) each picked a word for what we were to experience. Our four words were trip south, journey, excursion and adventure. Notice no one picked "destination X"!. We were all open and ready to create a new path. And that we did….Other than heading south, we were following the wind, our interests, and making plans for the days as they came. No long term "destination deadline!"

During the fourth month of our journey, Jimmy Buffet's words grabbed us. "You need it, I need it, we all need it…………" We "moored" for a month in a great community in Marathon, Florida. Made friends, scheduled dinners with others, went to marine programs and even volunteered at a local wildlife rescue. We tuned the radio in daily at 0900 for the daily community chat. Had we lost our free spirits? Were we confining ourselves to a schedule? Organized living? Commitments to others? Perhaps a bit, but I'd rather view it as part of the ongoing journey, a place to rest and catch our breath, a place to enjoy fishing, snorkeling, diving, kayaking, bicycle riding and a time share common interests with others.

So perhaps, we need a bit of both to make life interesting---the roaming and the settling. In the words of John Schaar, "the future is not some place we are going, but one we are creating. The paths are not to be found, but made. And the activity of making them changes both the maker and their destination". We are now on the move again and in this spirit, we now continue our journey……….
-Gwyn M. Vernon, Aboard ALA
April 11, 2007
Despite the fact that catamarans are gaining in popularity, many sailors are still curious, "why would you switch from a monohull to a catamaran?" Our story is quite simple….to fulfill a long desired dream and complete a natural evolution in our boating lives……
Mark and I (now in our 50's), have been around boats and water since childhood. Mark's family had a powerboat and they enjoyed fishing off the New Jersey shore. I grew up in Delaware between the Atlantic beaches and the Chesapeake Bay. My family toyed with paddlewheel, pontoon and houseboats. Recently, Mark and I recalled that our first exposure to sailing was at our respective childhood camps when we were eleven years old….Mark at Pine Bush, PA and me at Camp Pecometh, Chester River, MD.
As a young couple we owned a 16 foot Hobie first, then a 16 foot Prindle. We enjoyed sailing in state parks in PA, DE and at the beaches of DE and NJ. Looking back, I wonder how we hoisted those masts up and down….ah…youth ! We read Multi-Hull Magazine beginning in the mid-1980's and just about any other sailing magazine available while becoming boat show "groupies". Rarely did we miss a Philadelphia or Annapolis show, eventually including Miami in our annual route. We enjoyed several chartered sailboat vacations in the Keys, North Carolina, Colorado, California and the Chesapeake. We couldn't drive by a boatyard without stopping to look at "the boats for sale". I felt like "always the looker, never the buyer!".
One cold, rainy day in March, 2000, Mark suggested we take a drive down to the eastern shore of Maryland to look at boats. I love it there, so I'm up for the trip but sick of looking, "We always look and never buy. Let's go look at antiques." Needless to say, that very day we bought our first "real" sailboat, a 1985 Seidelmann 295 which we named "First Born". Not yet the catamaran we still dreamed of, but affordable for us at the time while we continued our vision. We had six great years on the Chesapeake with our monohull which solidified our desire to spend more time sailing and to have more room and comforts, ie. energizing us to continue our dream for a catamaran.
We began to start seriously narrowing down brands of catamarans in 2005. We weighed pros and cons of many, as well as new vs. used. Lots of spread sheet columns of pluses and minuses! One of the important influences for us was timing---if we were to invest in our dream boat, we also wanted to assure we would have the time to enjoy it. Now was the time, and we placed our order for a beautiful Leopard 40 catamaran at the Miami boat show in February 2006, taking possession in October, 2006. We have been living and sailing aboard ALA since, enjoying every moment. No, we would not trade in our experiences for anything, and are glad we have achieved "our dream".
For us, the advantages of a catamaran:
Space for living (currently we are living aboard for 6 months)
Storage for toys (we enjoy diving, snorkeling, fishing, kayaking, and carry a lot of stuff!)
Stability of platform for diving, snorkeling, fishing, without giving up sailing
Great performance sailing and speed
Easy boarding and walking about, safety (gaining importance as we age!)
Possible disadvantages of a catamaran (hard to think of any!):
None of the exhilarating feel when you heel over (I hate it anyway)
Width makes docking choices narrower (We love anchoring and mooring anyway)
Monohulls still look sexier! (Can't change that!)
Gwyn M. Vernon
Gwyn and Mark Vernon currently live and sail aboard their 40 foot Leopard catamaran, ALA, in Florida and the Keys. Home is Wallingford, PA where they live with their four parrots. ALA will sail in the Chesapeake this summer, 2007.